We sat down with Chris Kosson, an avid reader, beach-goer, and PBM industry expert. Get to know more about her role at RxBenefits and what shaped her to be the advisor she is today.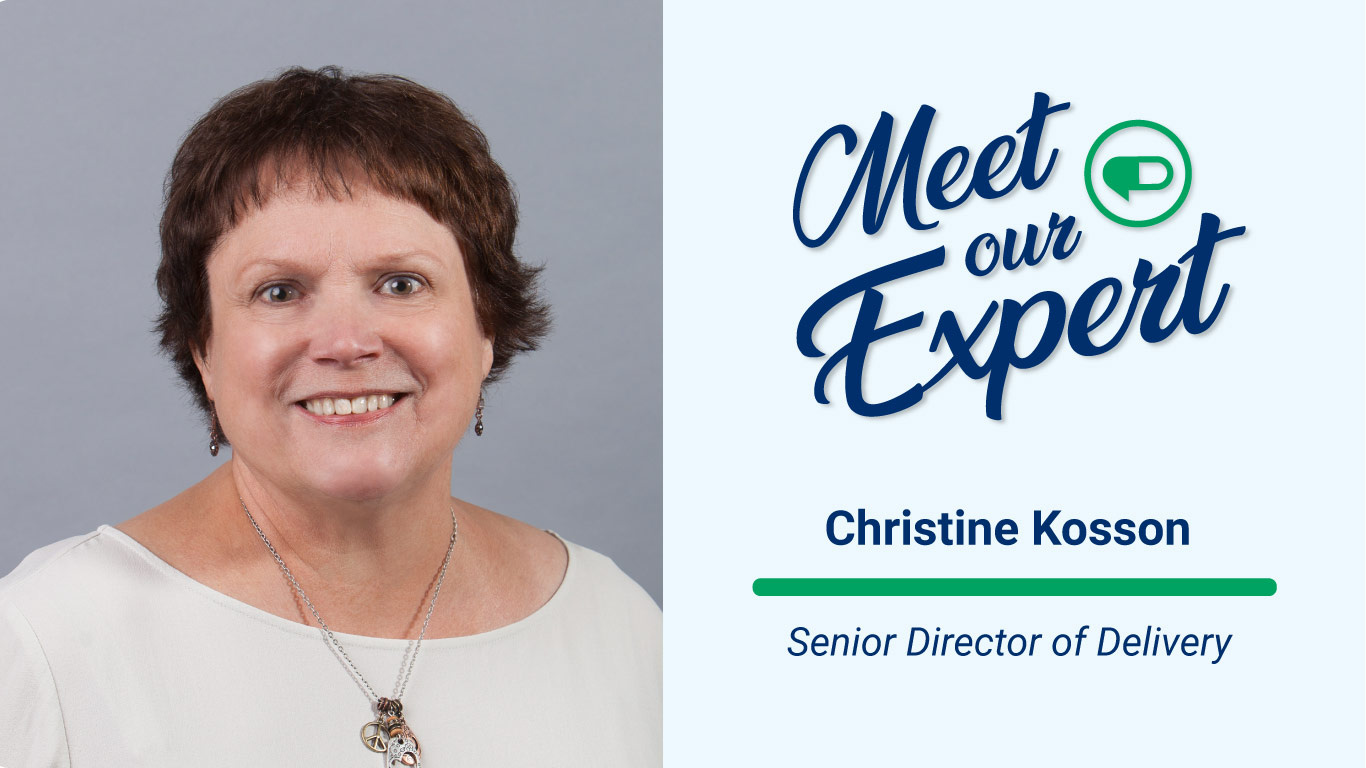 1.) Where did you grow up?
I grew up in Brooklyn Center, MN which is a first-ring suburb north of Minneapolis. I've since migrated to the "East Side" and live in Woodbury, a suburb of St. Paul.
2.) What was your first job?
My first job was in retail – working as a cashier/customer service rep at St. Paul Book and Stationery.
3.) Describe what you do today in a couple of sentences.
Today I lead the Account Management Team that supports our Optimize Direct (PPS) book of business as well as serving as the Principal Advisor for a couple of our direct consulting clients.
4.) What would you say is the most challenging aspect of your role?
Pivoting between the roles I serve. When you wear multiple hats, you need to be able to move between them smoothly. Some days it's harder to do than others.
5.) How long have you worked in the industry?
2022 will be thirty years in and around the PBM industry. I've spent half my career working directly for PBM's or benefit administration companies, and half has been spent in Pharmacy Benefit Consulting.
6.) What made you want to pursue a career in this industry?
I didn't pursue it, but rather it found me! A former boss of mine from the Housewares industry had gone to work for a PBM and felt I was the right person for a role in Account Management. I told her "I know nothing about pharmacy". She responded, "Well, you didn't know anything about cookware and bakeware and that turned out pretty good" (I worked there for 9 years). The rest is history!
7.) What do you enjoy most about your role, supporting RxBenefits/Confidio and its employees?
Working with such smart, capable, and caring people. When I'm asked this question by candidates, my answer is always the same – if you have a good team, magic can happen.
8.) How did your experiences prior to joining RxBenefits/Confidio prepare you for your role here?
The last 30 years have helped me build strong industry knowledge, make lasting relationships throughout the industry, and hone my skills as a consultant and a leader of people.
9.) What are your favorite hobbies or special interests, community involvements, etc.?
I love to read. I'm a rabid Twins baseball fan and season ticket holder. I also love classic rock music and look forward to being able to attend them again someday.  I also enjoy antiquing and finding vintage treasures, boating, and traveling to as many beach destinations as possible.
10.) Do you have a favorite motto or words to live by?
"Teamwork makes the dream work!" It's very true. Together we can do great things.