Digital Therapeutics (DTx) is somewhat of a new thing in the healthcare realm, but this is one trend in the pharmaceutical industry that is likely to stick around.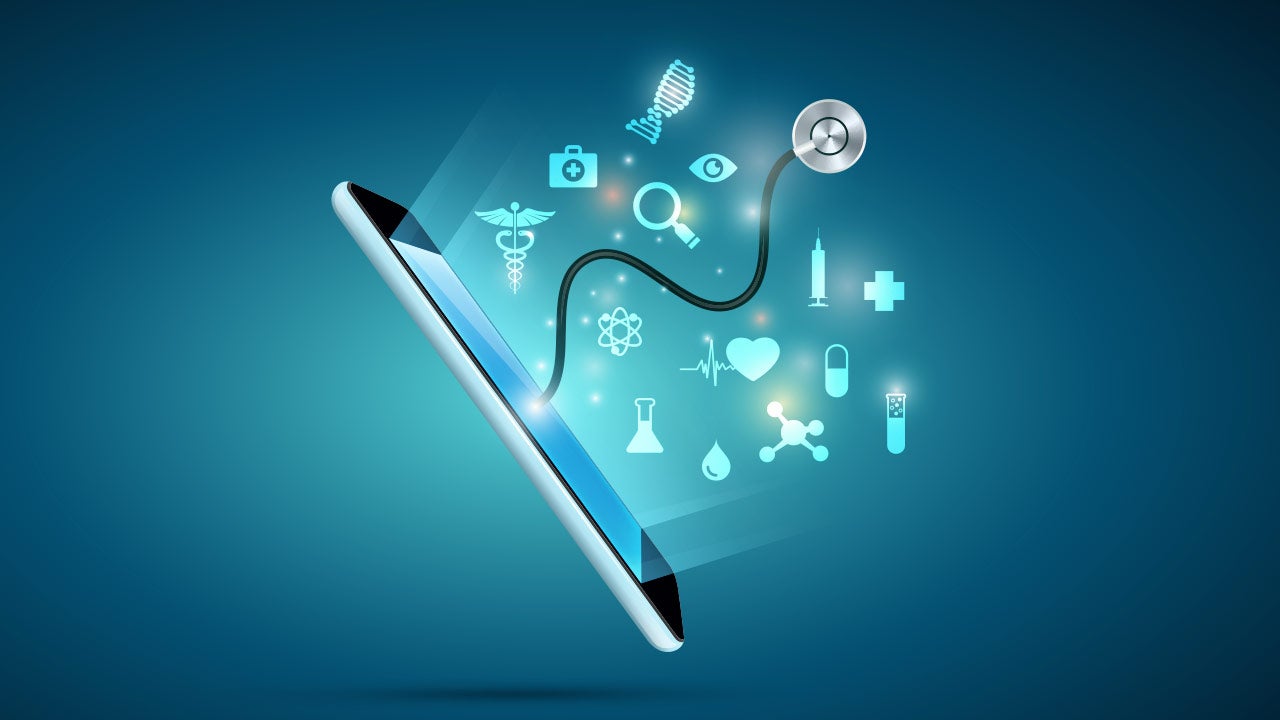 Background
DTx, which are web and design-based applications that support healthcare, is emerging to treat certain medical conditions by engaging with people to improve their health and wellness. In some cases, these new therapies are preventative to stop a disease or improve outcomes in chronic conditions such as diabetes. Other DTx applications are emerging to manage conditions, focusing on modifying behavior to increase patient engagement or improve medication adherence.  Intended outcomes are to reduce hospitalization or prevent even more expensive health interventions. Let us look at where these applications might fit into a pharmacy benefit.
Why Do I Need to Be Aware?
DTx applications are garnering U.S. Food & Drug Administration (FDA) approval. The intent is to land on Pharmacy Benefit Managers' (PBM) formulary, which in turn helps these applications land a place in payers' benefits packages1.  In addition, the 21st Century Cures Act of 2016 allows some DTx to be approved through the 510(k) pathway. This is important to highlight as the FDA offers medical device manufacturers several methods to fast-track their medical device approval process. The FDA 510(k) program appears to be one of the preferred ways for manufacturers to get a new medical device on the market quickly. The downside is that 510K can sometimes require no clinical trial and very little oversight.
While DTx is a new trend, at the time of this publication, there are eight digital therapies on the market, each of which have been authorized by the FDA and require a doctor's prescription. These DTx products have come to be known as Prescription Digital Therapeutics (PDTs). The eight PDTs on the market at this time along with their indications are summarized in Table 1 below.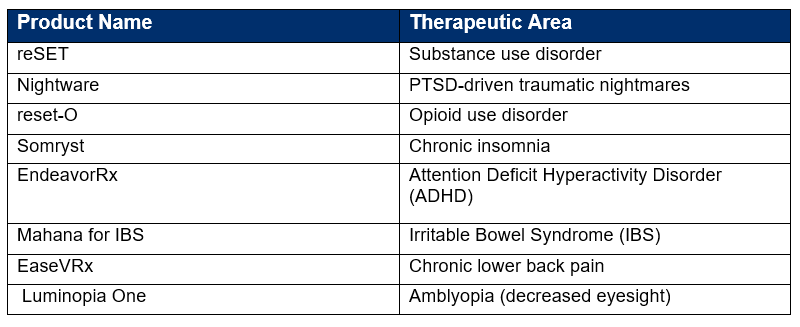 Manufacturers of PDTs are aiming to place their product on a PBM drug formulary and obtain coverage under the pharmacy benefit. Since we are in the early stages of these newly developed applications, there is still no clinical consensus regarding the cost-effectiveness or value of these digital therapies.
DTx Discussion
An essential first step in differentiating DTx from other forms of technology is to discuss what DTx is and what DTx is not. As a new area of treatment, DTx consists of three categories.
The following table summarizes each and provides a current example.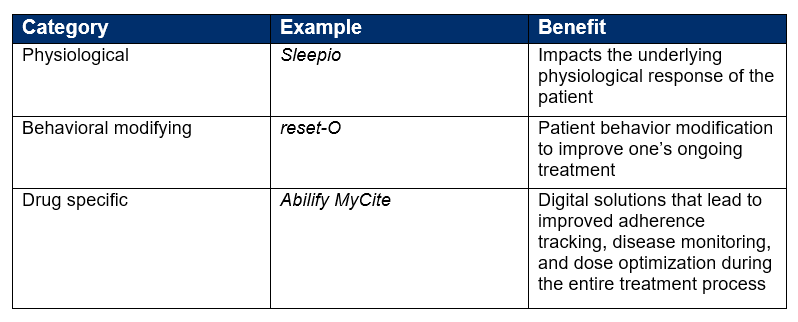 The following table summarizes types of therapy that are not typically classified as DTx applications because they do not fit the criteria definition of being physiological, behavioral modifying, or drug specific.

Cost
Two practical examples of digital therapy available in the market are reSET-O and Sleepio. reSET-O has various applications that lead patients with stimulant use disorders to track their substance use, cravings, and triggers. Designed for patients who are undergoing outpatient therapy to treat their substance use disorder, the system still requires a physician's prescription.
reSET-O requires a doctor's prescription and is considered a PDT. Clinicians working with patients using reSET-O can log on to a dashboard to access a patient's data and monitor their progress. The application has a label that contains instructions on how to integrate the tool into therapeutic practice between clinicians and patients. This 12-week program is priced at $1,665. In reviewing Confidio book-of-business claims for 2020, we have only seen one claim for a DTx, and the claim was for reSET-O. The 1-time claim came in at a plan cost of $1,407. It is also our understanding that the 12-week program carries a price of $1,440, after rebates, per a confirmation with the reSET-O manufacturer, Pear Therapeutics.
Sleepio is a digital cognitive behavioral therapy (CBT) program that improves one's sleep without the use of pills. A yearly subscription to Sleepio costs around $500 and does not require a doctor's prescription. By comparison, the annual cost of generic Ambien would be around $140, and the annual cost for Lunesta would be $5700.
Sleepio is an evidence-based intervention delivered in an office by a doctor. Working with more than two dozen self-insured corporations, the company Big Health aims to offer Sleepio to their employees. The aim is to close a treatment gap, as there are not enough providers to meet the demand for chronic insomnia help – a gap that has been exacerbated by the COVID-19 pandemic.
Volunteers in randomized studies who used Sleepio reported feeling milder insomnia than people who used a placebo treatment app or online sleep education. But the app has not been rigorously studied against sleeping pills or in-person behavioral therapy2.
Member Claim Experience
Since these are digital applications, the member claim experience for a PDT is different from getting a prescription for traditional medication.  A member obtains a prescription from their primary care provider and fills at a pharmacy with the claim adjudicating at point-of-sale.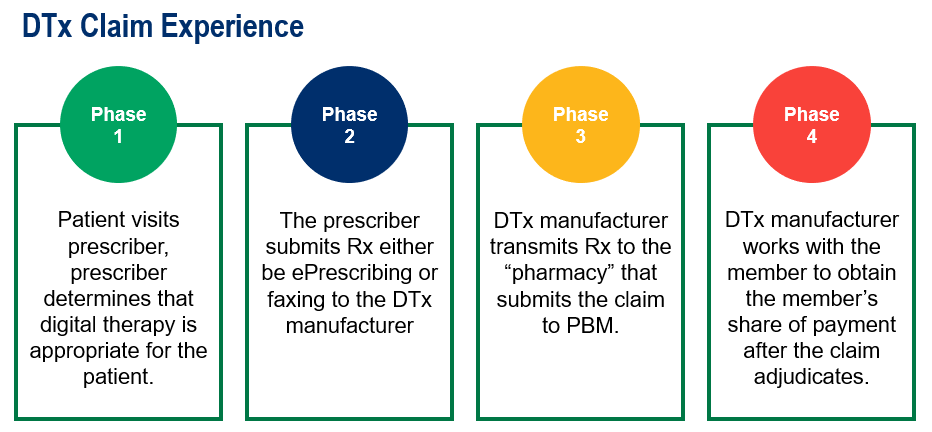 Considerations

 
In considering DTx coverage under the pharmacy benefit, here are eight important questions to consider:
Can cost avoidance for digital therapy applications be demonstrated?
How does the DTx impact the total cost of care?
Who owns the data?
Who has access to the data?
How is the data used?
How will product updates be assessed to provide ongoing assurance of efficacy, safety, and usability?
Can your PBM apply managed care tools, such as a formulary to support cost-effective care?
Will your PBM allow the use of utilization management structures, such as clinical guidelines and step therapy protocols?
When it comes to treating mental health and behavioral disorders, there have traditionally been two choices: medication and psychotherapy/behavioral interventions. DTx could be an exciting third option offering timely access to providers, particularly in the mental health arena, which has seen access worsen, especially during the pandemic.
Pear Therapeutics' CEO, Corey McCann, MD, Ph.D. has been quoted as saying, "Prescription digital therapeutics (PDTs) align incentives across major healthcare stakeholders and are designed to enhance access and convenience for patients, to improve reach and efficiency for clinicians, and to reduce cost for payers by replacing and augmenting human intervention as well as reducing costly clinical outcomes."
What Confidio hopes to see in the future for digital therapies is a common commitment to evidence-based medicine. Digital therapeutics are evaluated in clinical studies and prescribed by a medical provider, much like that of traditional drug development should through an R&D path. With this in mind, DTx coverage under the pharmacy benefit, or even the medical benefit, should be an important consideration over the next few years.
Sources
https://www.emarketer.com/content/anthem-humana-drop-140m-launch-next-generation-pharmacy-benefit-management-platform