Combined company now provides expanded portfolio of solutions for self-funded employers to sustainably manage pharmacy cost and risk amid rising drug costs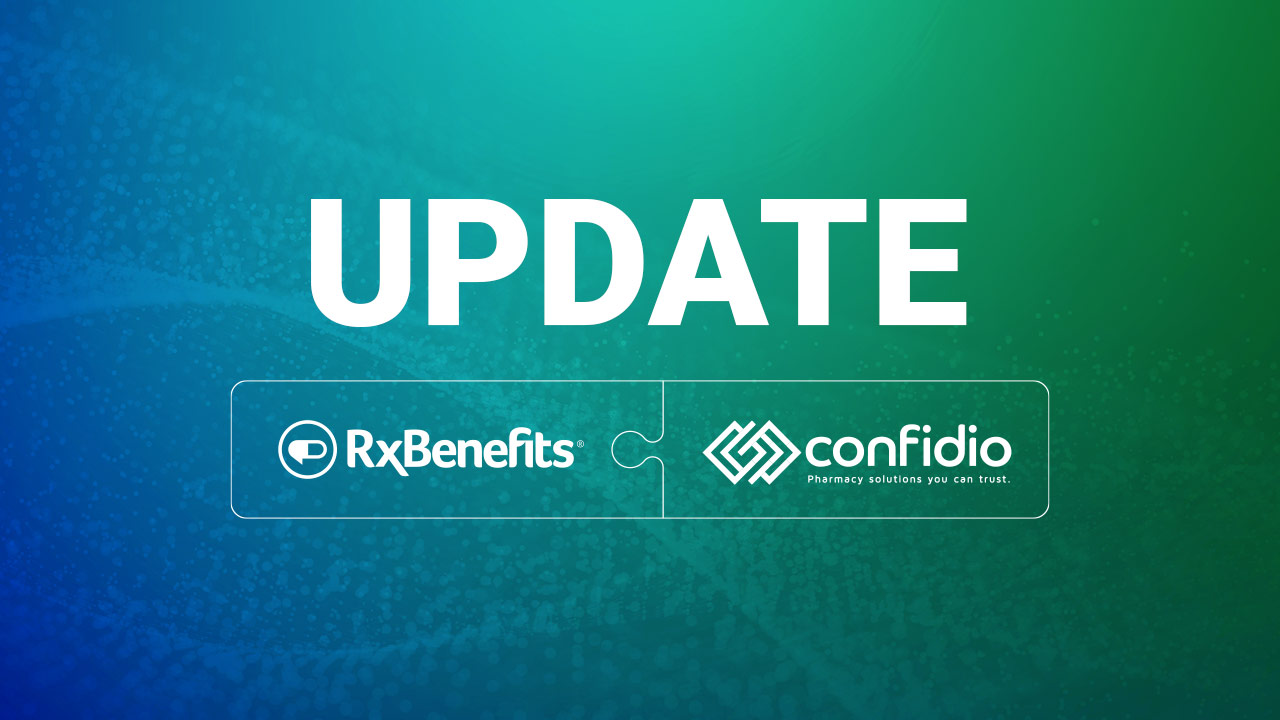 Following the recent acquisition of pharmacy benefits consulting firm Confidio, RxBenefits, the employee benefits industry's first technology-enabled pharmacy benefits optimizer (PBO), today announced the companies have taken a notable step in their integration and expanded their suite of independent pharmacy benefits solutions to further address the industry's complex challenges for benefit advisors and their employer clients.
Employers continue to seek solutions to effectively manage pharmacy spend as the prices of both specialty and maintenance medications continue to rise. At the same time, maintaining a rich pharmacy benefit is increasingly critical for employers' recruitment and retention efforts in today's highly competitive job market, as a recent survey by RxBenefits found that 1 in 10 Americans would change jobs or involve their employer's HR department to get coverage of specialty medications. 
RxBenefits and Confidio officially joined forces in September 2021 and have since combined capabilities and assets to better advocate for both the financial and clinical interests of plan sponsors and their members' pharmacy benefits. With a combined 3 million members and $3 billion in annual drug spend under management,  RxBenefits' virtually unmatched scale empowers benefit advisors and mid-market employers to secure rates and rebate guarantees like a Fortune 10 employer. In recognition of evolving industry challenges, the company is now offering new solutions designed to meet diverse client needs.  
The newly expanded suite of solutions include: 
Optimize 360:

Covering 2.2 million lives and growing, this turn-key offering yields first-year pharmacy plan savings in the 20-percent range, regardless of group size, and extends annual pricing improvements averaging 10.4% year-over-year for the last three years. The 12-month RxBenefits-held contract includes guaranteed rates and rebates with annual true-ups and reconciliation. Because the average Net Promoter Score (NPS) in the PBM industry is zero, RxBenefits directly delivers account management, analytics, clinical consulting, and client- and member-services to create an award-winning customer experience.

Optimize Direct:

Formerly Confidio Performance Pharmacy Solutions (PPS), this direct-to-PBM contracting option currently covers 600,000 member lives. The 36-month leveraged PBM-contract includes negotiated pricing, client-aligned terms, and 100% pass-through of rebates. Rather than taking over PBM services, RxBenefits account executives support benefit advisors in ensuring PBM compliance, adherence to service level agreements and performance guarantees, and helping to sustain lower costs with data-driven insights and tailored recommendations.

Protect:

RxBenefits clinical utilization management solutions deliver an incremental 7-10% annual savings by further eliminating wasteful spending, while also prioritizing the health and safety of members. Through independent oversight and prior authorization reviews, active clinical intervention, and consultation with members and prescribers, Protect programs resolve PBM profit conflicts in the best interest of the plan and its members

.
Advise:

RxBenefits' team of seasoned industry experts stand at the ready to help brokers with their various pharmacy benefits professional engagements, whether prospecting new business, conducting a plan audit, or performing an analysis of the plan.
In addition, RxBenefits' sister company, RxPharmacy Assurance, recently launched to provide supplemental stop-loss insurance designed specifically to protect against potentially catastrophic specialty drug claims.
"As we enter 2022 and the COVID-19 pandemic continues, navigating employers' unique and ever-changing pharmacy needs has never been more complex or time-consuming for benefit advisors and HR leaders," said Scott Vogel, Chief Strategy Officer, RxBenefits. "However, as a result of our combined forces and increased capabilities, obtaining an affordable and competitive benefit is not only possible, it is easy – and flexible based on client needs." Vogel continued, "As an independent and client-aligned partner, we remain committed to transparency and innovation, and are leveling the playing field for plan sponsors by delivering substantial savings without disrupting members."
"With the power Confidio's experts and solutions now fully integrated into RxBenefits, we are one team with multiple tools in our toolbox to help our clients save money, protect the health and safety of their members, and mitigate current and future risk, all while providing unrivaled service to advisors, sponsors, and members," said Bryan Statham, Chief Executive Officer, RxBenefits. "Leveraging the strength of our combined skills and capabilities, our full suite of pharmacy benefit solutions ensures that all self-insured businesses, regardless of their size, can continue to provide a sustainable pharmacy benefit to their employees."
For forthcoming information on the next steps in the integration or for updates on RxBenefits' expanded suite of solutions, follow the company on Facebook, Twitter, and LinkedIn.
About RxBenefits
RxBenefits is a technology-enabled pharmacy benefits optimizer (PBO) with more than 700 pharmacy pricing, data, and clinical experts working together to deliver prescription benefit savings to employee benefit consultants and their self-insured clients. With nearly 2 million members, RxBenefits brings market-leading purchasing power, independent clinical solutions, and high-touch service to its customers – ensuring that all businesses, regardless of size, can provide an affordable and valuable pharmacy benefit plan to their employees. The company is headquartered in Birmingham, AL.