The new solution is part of a targeted pharmacy benefits service initiative that includes support and management resources to address the unique concerns of 340B grantees.
RxBenefits, the employee benefits industry's first technology-enabled pharmacy benefits optimizer (PBO), today announced the launch of Optimize 340B, a solution designed to maximize the value of 340B on the prescription plans of hospitals and 340B grantees. Optimize 340B combines comprehensive analytics and expert insights to unlock the financial potential of employee-eligible 340B claims and referrals for hospitals and other covered entities.
Hospitals are facing previously unseen challenges, including the strain brought on by COVID-19 – which continues to impact recruiting and retaining talent. Offering a top-tier benefit package is one way hospitals can address staffing issues. Healthcare employees are a very well informed audience when it comes to healthcare topics and benefits, and they expect and deserve a high-quality benefit plan. The challenge is creating a top-tier benefit package that's also affordable.
"Hospitals and covered entities are both employers and healthcare providers, and finding a pharmacy benefits partner that understands the unique needs on both sides of the equation is critical," said Adrianne Kolano, Lead Strategic Hospital Advisor for RxBenefits. "Most vendors and consultants specialize in either the healthcare plan or pharmacy side of the industry. In contrast, RxBenefits is uniquely positioned to understand how all the components work together, from pharmacy benefit management to leveraging in-house pharmacy resources and the 340B program."
RxBenefits has partnered with over 200 healthcare organizations serving more than 500,000 members nationwide, and just over half of those clients participate in the 340B program. The company has drawn on that wealth of knowledge and data to create Optimize 340B, which combines multiple data sources and curates them into a single output, from which our experts can extract a complete picture of 340B-eligible employee prescriptions. This output is used to create a tailored plan addressing each hospital's individual needs to maximize the value of their prescription plan with 340B.
RxBenefits' 340B experts partner with the client to provide insights and recommendations as part of a two-phased approach. First, clients receive recommendations to optimize their use of 340B pricing on eligible employee prescriptions. Second, they're given insight into past 340B program performance and how that can inform future opportunities to better manage their program. Clients receive ongoing support and optimization recommendations from 340B experts on a quarterly basis.
"Our goal is to make prescription drug benefits simple, affordable, and easy to manage for all of our clients, so our members can get the medications they need when they need them," said Wendy Barnes, Chief Executive Officer of RxBenefits. "Hospitals and 340B grantees in particular need a partner who understands their specialized needs and is focused on helping them address these challenges. Optimize 340B is a unique management solution that encourages in- house pharmacy utilization by capturing and identifying employee-eligible claims, maximizing in- house plan savings and productivity."
Maximizing the benefits of the 340B program is a valuable tactic for hospitals and 340B grantees; eligible prescriptions for both patients and employees can be discounted 20% to 45% below group purchasing organization prices. Working with an experienced partner like RxBenefits can help covered entities capitalize on these savings and optimize their 340B program while remaining compliant with all regulations.
To learn more about Optimize 340B and RxBenefits' portfolio of products designed to suit hospitals' unique pharmacy needs, please visit https://www.rxbenefits.com/solutions/.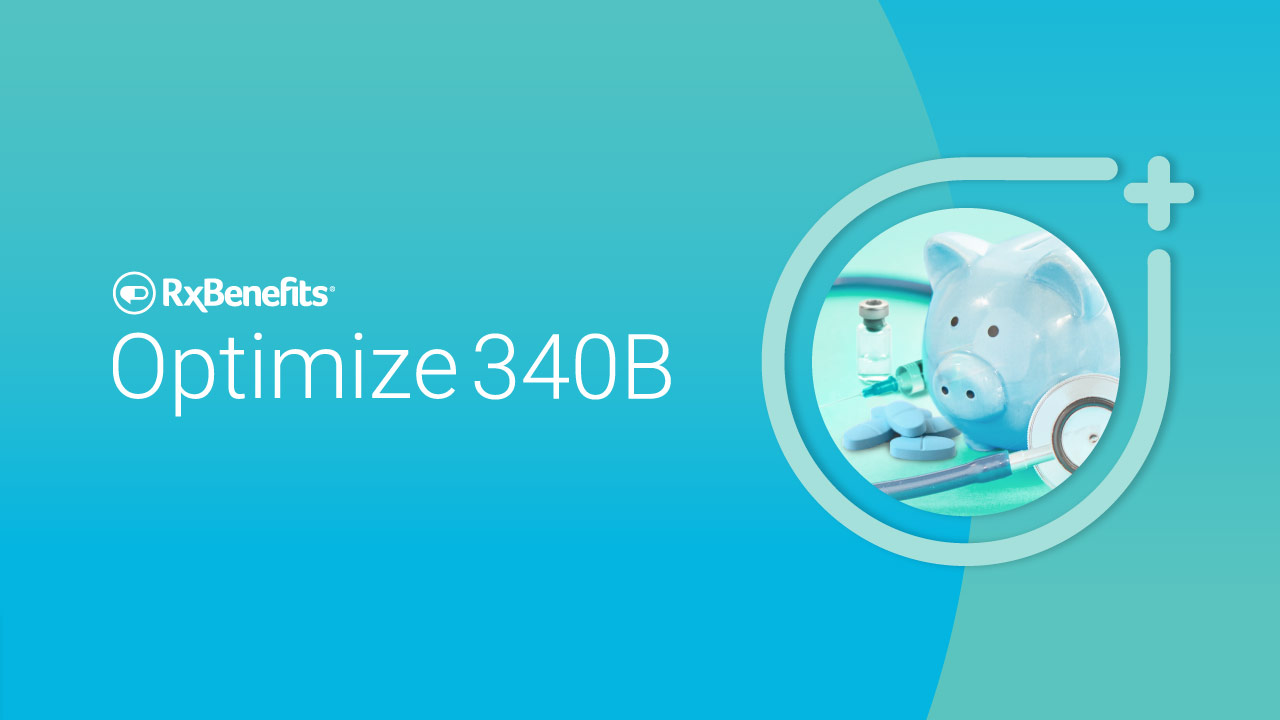 About RxBenefits
RxBenefits is a technology-enabled pharmacy benefits optimizer (PBO) with more than 800 pharmacy pricing, data, and clinical experts working together to deliver prescription benefit savings to employee benefit consultants and their self-insured clients. With 3 million members, RxBenefits brings market-leading purchasing power, independent clinical solutions, and high- touch service to its customers – ensuring that all plan sponsors, regardless of size, can provide an affordable and valuable pharmacy benefit plan to their employees. The company is headquartered in Birmingham, Ala., with a second office in Towson, Md. For more details, visit rxbenefits.com or follow the company on Facebook, Twitter, and LinkedIn.