Leading pharmacy benefits optimizer appoints 20-year executive finance veteran, further bolstering its seasoned leadership bench
Today, RxBenefits, the employee benefits industry's first technology-enabled pharmacy benefits optimizer (PBO), announced Thad Kwiatkowski has been named Chief Financial Officer (CFO). A senior-level executive with more than 20 years of finance, administrative and accounting experience in a variety of industries, including healthcare, Kwiatkowski joins RxBenefits to provide financial leadership while supporting and enhancing the company's strategic initiatives and long-term growth.
"As RxBenefits continues to scale to meet the needs of our valued customers, we're excited to welcome a seasoned leader like Thad to help guide the growth of our organization," said Chief Executive Officer Wendy Barnes. "Having worked at several reputable brands in the healthcare industry, Thad brings a developed understanding of what drives growth and excellence in our industry."
A self-described servant leader, Kwiatkowski most recently served as CFO at Advanced Medical Pricing Solutions (AMPS), a leader in healthcare cost containment. While there, he guided the company's strategic planning and M&A strategy, also overseeing a cross-department global team. Prior to AMPS, he delivered financial and business insight and analysis to drive growth at Atlanta-based Cotiviti, a healthcare analytics company.
In his role as CFO at RxBenefits, Kwiatkowski will nourish RxBenefits' best-in-class culture, utilizing his vast experience to transform existing financial and operational data into business decisions that will continue the company's growth.
"After following RxBenefits' inspiring story for years, I am honored to not only be a part of this amazing team, but to be in a leadership role where I can support and be an advisor for the entire organization," said Kwiatkowski. "I look forward to applying my unique skill set to guide and enhance the way our team approaches business decisions. RxBenefits' commitment to both members and decision makers has been unparalleled in the industry, and I'm excited to work alongside this passionate team as we further enrich and protect member health and safety."
With Kwiatkowski's hire, current President and Chief Financial Officer Robert Gamble will complete his planned executive transition to President and Chief Operating Officer (COO). With 16 years of executive experience at growing healthcare companies, six of which have been at RxBenefits, Gamble will be responsible for company strategy, product development, and information technology in his new role as COO.
RxBenefits continues its growth in the pharmacy benefits industry. The company employs more than 800 people, serves more than 3,000,000 members, and manages more than $3 billion in annual pharmacy spend. Looking ahead to 2023, the company plans to bring additional new, innovative solutions and products to market that help large and mid-market self-funded employers save significant dollars on pharmacy benefits, lower their risk of catastrophic specialty claims, and provide a world-class benefits experience.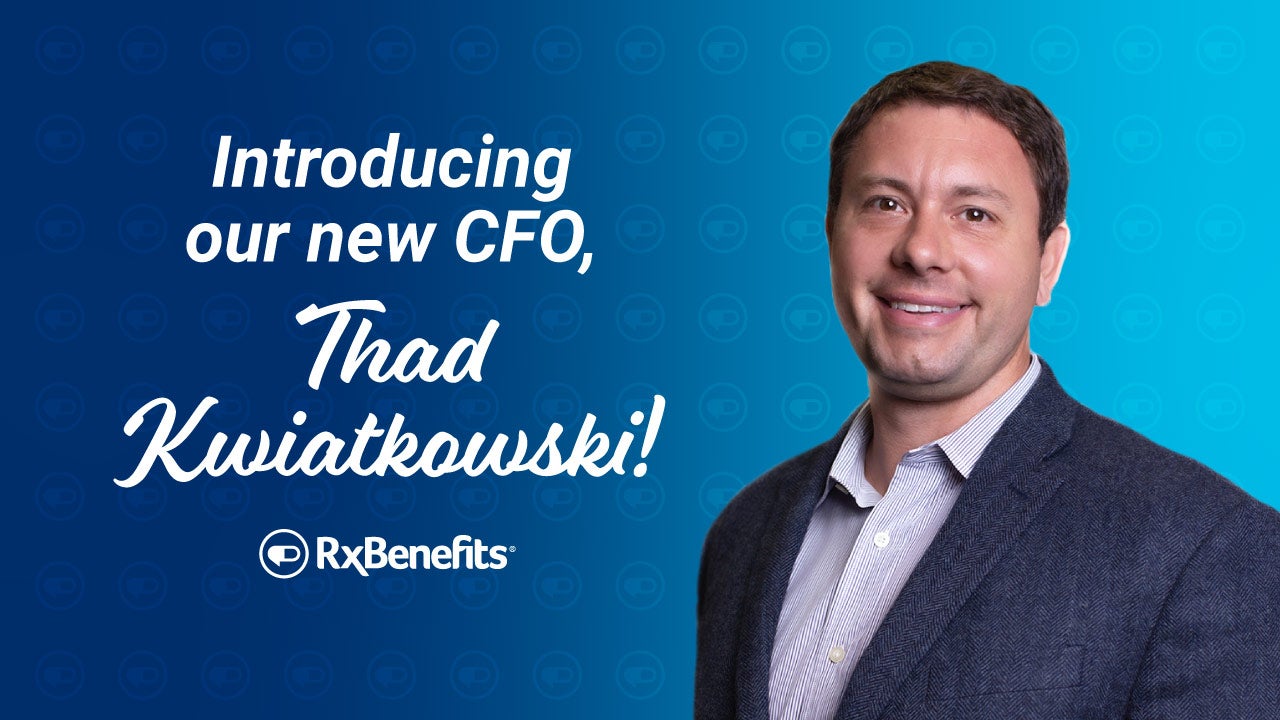 About RxBenefits
RxBenefits is a technology-enabled pharmacy benefits optimizer (PBO) with more than 750 pharmacy pricing, data, and clinical experts working together to deliver prescription benefit savings to employee benefit consultants and their self-insured clients. With more than 3 million members, RxBenefits brings market-leading purchasing power, independent clinical solutions, and high-touch service to its customers – ensuring that all plan sponsors, regardless of size, can provide an affordable and valuable pharmacy benefit plan to their employees. The company is headquartered in Birmingham, AL with a second office in Towsend, Maryland. For more details follow the company on Facebook, Twitter, and LinkedIn.