Hospitals & Health Systems
Making the Complicated Questions Simple.
Your unique pharmacy benefits needs deserve the attention of a specialist.
We know that you're facing challenges like never before—among them the COVID era, which has put a strain on your employees and your profits. We also know that your employees are heavy users of their health benefits, particularly their pharmacy plans, and that they expect a high-quality benefit plan from you. You're both an employer and a healthcare provider, and finding a pharmacy benefits partner that understands your unique needs, is structured to serve you and your members, and can work with you and your organization to deliver on your goals isn't an easy task.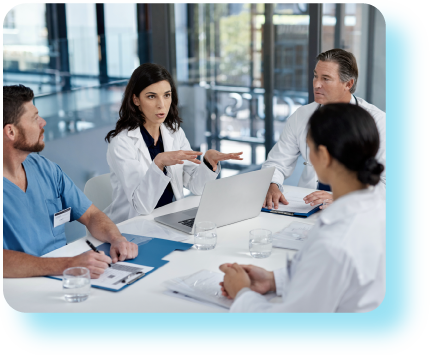 RxBenefits doesn't offer yet another off-the-rack pharmacy benefits program. We have the expertise and resources to provide:
Solutions that uniquely balance the otherwise competing priorities of the director of pharmacy, CFO, and human resources

Contract terms that make use of assets like your in-house pharmacy and discount programs like 340B

An account team specially trained to address your concerns

An in-house pharmacy support team ready to work with your hospital pharmacy experts
Ask your trusted benefit consultant about our tailored hospital solutions that leverage both a large national pharmacy network and your organization's owned resources to optimize employee and population health while containing costs and driving revenue.
The Benefits of RxBenefits
Market-leading purchasing power to secure hospital-specific, channel-agnostic contracts with transparent terms and the best rates and rebates
A dedicated Hospital Team, experienced with the unique pharmacy benefits needs of hospitals and health systems
A team of licensed, independent pharmacists designing utilization management strategies to drive out waste, mitigate trend, and protect member health and safety
Exceptional service experience, from worry-free implementation and expert consultation to award-winning client and member service