Top 3 Things You'll Learn
Aiming to make a real dent in the industry, Mark Cuban Cost Plus Drugs Company started as a nonprofit under a different name.
MCCPD's approach drives needed conversations and Cuban should be applauded for the awareness he's creating.
MCCPD operates more like a drug manufacturer and mail-order pharmacy than a PBM.
There's a lot of frustration about drug pricing in America right now. Across the country, many voices have joined RxBenefits in the call for more affordable prescriptions. As federal and state legislators, new pharmacy industry players, doctors, plan sponsors, pharmacists, and consumers all look for ways to make medications more affordable, the Mark Cuban Cost Plus Drugs Company (MCCPDC) frequently gets thrown into the spotlight as a leading disruptor to pharmacy benefit managers and drug manufacturers. But will Cuban's company be a driving force in the fight against rising drug prices?
Like RxBenefits, Cost Plus Drugs wants to bring independent viewpoints to drug decisions and to do what's best for the patients, but there are limits to MCCPDC's reach. To understand the impact of MCCPDC, two RxBenefits pharmacy industry experts thoroughly analyze Cost Plus Drugs and what benefit advisors should watch for as the "Shark Tank" star aims to take a bite out of PBM profit margins.
What is Cost Plus Drugs doing?
The brainchild of co-founder and CEO Dr. Alex Oshmyansky, Cost Plus Drugs was initially created under a different name. Oshmyansky aimed to impact the parts of the drug industry he saw harming patient outcomes: drug supply chains, the number of players in the drug chain, and medication waste. Oshmyansky cold-emailed Cuban, who became a prominent investor, and Cuban's name was added to the company. He hoped his celebrity would bring attention to the cause of lowering drug prices and the model of offering prescriptions for the cost of acquisition plus fees. Now, Cuban commits time to being hands-on with the company, and he can be seen commenting on social media and TV and answering customer emails.
Cuban's bio on X, formerly known as Twitter, claims the MCCPDC is "dunking on the pharma industry." But, it remains to be seen how the company will impact the most significant pharmacy industry players.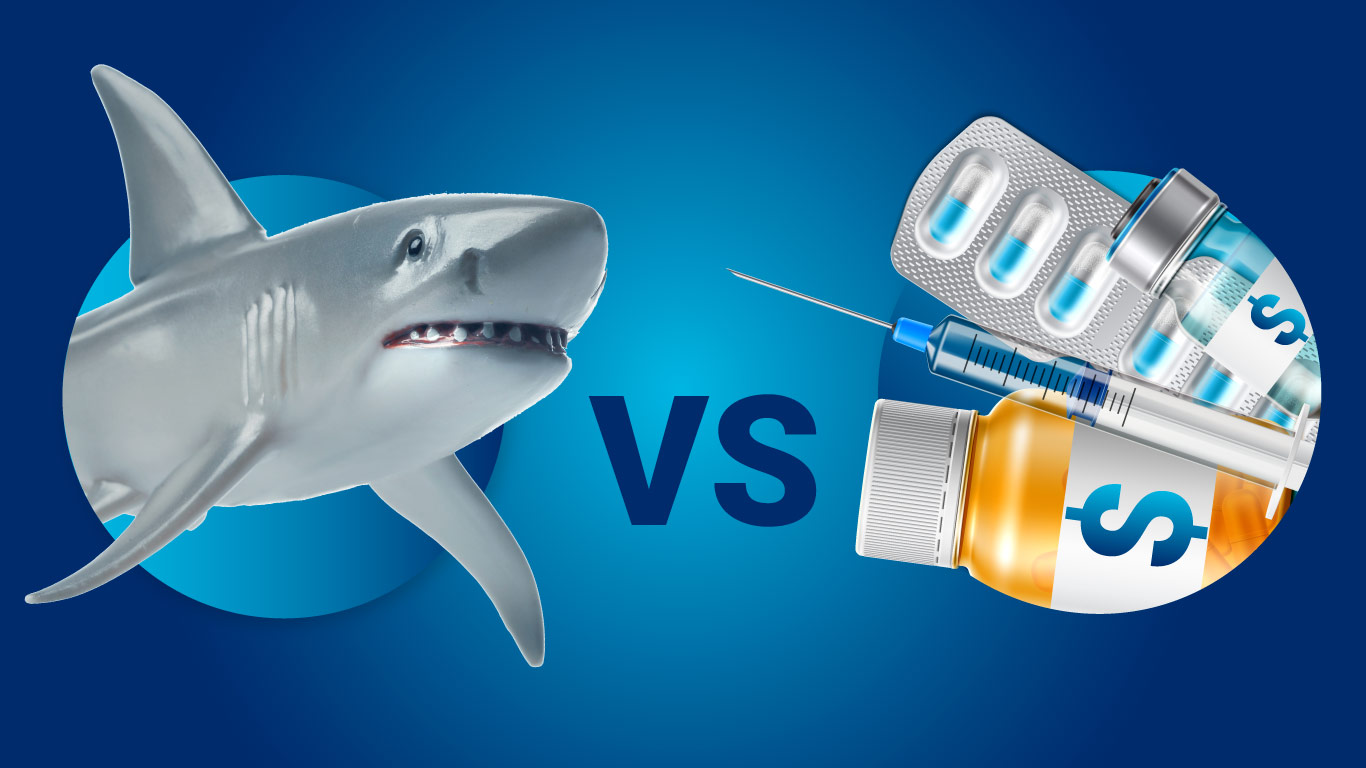 Jumping the shark: Has Cost Plus Drugs taken on too much?
Sometimes confused for a discount card program or a stand-alone PBM, Cost Plus Drugs sells prescriptions directly to consumers. It received its pharmaceutical manufacturing license in Texas to start manufacturing medications earlier this year. MCCPDC operates more like a drug manufacturer, reseller, and mail-order pharmacy than a PBM. While anyone can go to MCCPDC to fill a prescription, the business began with a focus on helping those in poverty without insurance.
The drugs available through the company are mostly generic, but adding the Humira biosimilar Yusimry in the summer of 2023 expanded its portfolio. At first, MCCPDC bypassed pharmacy benefit managers completely, but the company has partnered with a few smaller PBMs and employers in an effort to make a real dent in the industry.
The pharmacy industry's most prominent players are certainly keeping an eye on the decisions Cuban's company is making. MCCPDC was named one of the most influential companies of 2023 by Time Magazine.
In August of 2023, Blue Shield of California made a big splash when it announced it would drop its PBM and partner with Amazon Pharmacy, MCCPDC, and Abarca to manage the prescriptions of nearly five million members. Each of the three companies will take on an aspect previously handled by the PBM, with MCCPDC providing access to low-cost medications. The three companies cannot manage specialty drug prescriptions, so Blue Shield of California will still work with CVS for the most expensive and complex medications.
Industry expert Adam Fein told the Wall Street Journal that Blue Shield of California "may be biting off more than they can chew" with the new system. The healthcare industry is highly complex, and many people would like it simplified. More transparency will be beneficial, but creating that transparency may not always be as easy as sharing the cost of a drug plus fees.
Has Mark Cuban already shaken up the status quo?
Cuban's Cost Plus Drugs wants a parallel supply chain without PBMs or wholesalers, but going after these different drug avenues is a colossal endeavor. There are certainly places to trim the fat from the pharmaceutical industry. However, when drugs go directly from the manufacturer to the pharmacy to the member, it dismantles more than markups at each step – it impacts the services and oversight this network provides in the modern world. When prescriptions for the insured are filled outside of the pharmacy benefit, the cost of drugs doesn't go towards a member's deductible, nor do clinical experts screen them to ensure it's the right prescription.
There's still a need for these supply chain elements, but new technology, new models, and a focus on independence could bring a shift.
If a member with a specific medical condition sees a commercial for it on TV and goes to get that prescription from their physician, they won't know about the cost. If the drug costs $100, it's not too big of a commitment each month for the plan sponsor, but if the therapy costs $20K a month, then the decision made by the doctor and the patient will have a huge impact on the employer's budget.
The doctor may not have a vested interest in the cost of the drug, but the PBM, the health plan, the drug manufacturer, and the pharmacy all do. The higher-priced drugs make more money for those involved with the transaction downstream, and companies like MCCPDC want to make the price of medications known to everyone, add transparency, and ultimately make them more affordable.
Cuban should be applauded for the awareness he's creating. The MCCPDC approach drives conversations that have been needed for years, but consumerism doesn't work in pharmacy as efficiently as in other areas where the buyer is the end user.
The notion of transparency continues to expose the gross-to-net bubble around drugs like Humira, which has a list price of $6,900 and is rebatable at 85%. If the pharmacy industry can create more consistency between the manufacturer cost and what is paid for a drug, it will help doctors and patients understand the cost of drugs and probably bring down costs for everyone.
PBMs have been making a large portion of their revenue from rebates for years – and if rebates go away, that's not a bad thing – but PBMs probably can't go away. Instead, PBMs will likely begin to charge fees for each claim they service. It may result in a more transparent model that can be easier to evaluate.
When MCCPDC announced the addition of Yusimry, the biosimilar for Humira, it made the alternative drug available for $570, with no rebates. This may drive other biosimilar manufacturers to reconsider their pricing and create pressure to lower prices overall. Mark Cuban can be credited with bringing those costs down for everyone – even those who won't use his pharmacy to get their anti-inflammatory drugs.
What did we do before PBMs?
Without PBMs, there would be a different landscape for pharmaceuticals today. Before PBMs, we had the "shoebox effect." People would pay out of pocket for their medications, save the receipts, and fill out a claims form with pen and paper to get a refund. PBMs made it possible for members to pay only an up-front copay. Then, PBMs evolved to secure discounts from manufacturers for employers that listed the drugs on their formularies to account for benefit design complexities for more networks, specialty drugs, and other expansions. By creating more drug access, PBMs allowed manufacturers to research, develop, and advertise — and, yes, make the drug market more costly. But it also made people healthier.
It's not about being for or against PBMs. Always knowing exactly how much a drug costs would be ideal – although even then, multiple drugs with very different prices could have the same clinical outcome. Having transparency in drug pricing doesn't mean patients and providers will understand the differences in costs for therapies and make the right choices.
Where do high drug price differences come from?
When employers see the difference between what their benefit pays and what MCCPDC lists the drug for, they understandably get angry. Cuban's company blames intermediaries and the pharmaceutical supply chain for the increase in drug prices – not drug manufacturers.
When the Wall Street Journal reported on markups for generic cancer drugs, Mark Cuban pointed to benefit advisors as part of the problem in his tweet about the article.
While PBMs are at the crux of this, the enablers are big companies that agree to these deals. They listen to consultants who may double dip AND charge companies for putting them in horrible deals.

I learned this the hard way when the Mavs and my companies started the process of moving our drug coverage to a rebate free PBM and @costplusdrugs
In a recent article in STAT, an M.D. points out that PBMs aren't alone in driving up medication costs, and MCCPDC's message ignores how manufacturers raise drug costs in myriad ways, including setting the pricing and keeping generics out of the market to retain high brand medication profits.
What to watch in the drug pricing wars of 2024 and beyond
There's pressure on drug prices from all sides, from the Federal Trade Commission investigations to Congressional hearings and potential federal and state regulations.  If Cuban is willing to continue investing money and time, he'll add to the pressure by bringing attention to high drug prices and how patients and payers are impacted. And that's a good thing.